Visit our Gourmet Soup Shop 
We are bringing back your favorites.
Our Gourmet Shop is where you will find packages of our delicious soup mixes
That's Amore Minestrone and Gobble, Gobble Turkey.
That's Amore Minestroni
The first soup mix our club made and a real crowd pleaser.  It's been 25 years now and we continue to sell out every year.  Add Italian sausage, carrots, celery and onions to create 12 cups of what just might be the best Minestrone ever.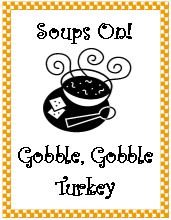 Gobble, Gobble Turkey
With a taste reminiscent of Grandma's turkey pot pie, this mix is comfort food in a cup.  By adding water and cooked turkey or chicken, it becomes two quarts of yummy, heartwarming soup in only 15 minutes.  Wouldn't Grandma love to have had it this easy?